Credit Card Rankings for May, 2007
Here are the popularity rankings for the cards we recommend here at
www.FedPrimeRate.com
for May, 2007: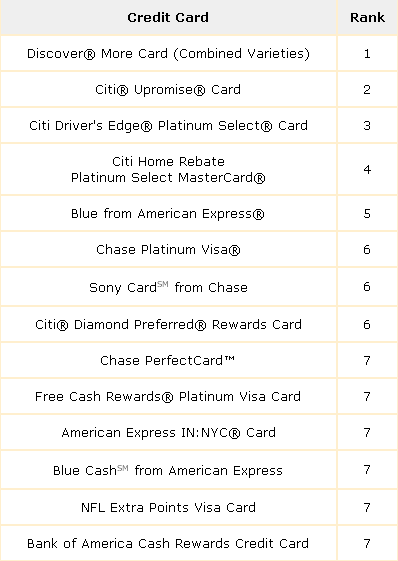 The above-listed rankings are based on both applications and approvals that originated from this website.
The Discover More family of credit cards is still the top choice at this website, but the Citi® Upromise® , the Citi Home Rebate Platinum Select MasterCard® or the Citi Driver's Edge® Platinum Select® credit card may soon steal the #1 spot away from
Discover
, because with these three Citi cards, you can still transfer a credit card balance from a non-Citi credit card, pay no interests on the transferred balance for 12 months,
and
pay no balance transfer transaction fee. The Discover More cards still offer good value, but you now have to pay a transaction fee to transfer balances to any Discover More card.
The American Express® Blue card is still quite popular, as the card still offers a highly attractive 0% Intro APR on new credit card purchases for 15 months.
Labels: credit_card_rankings